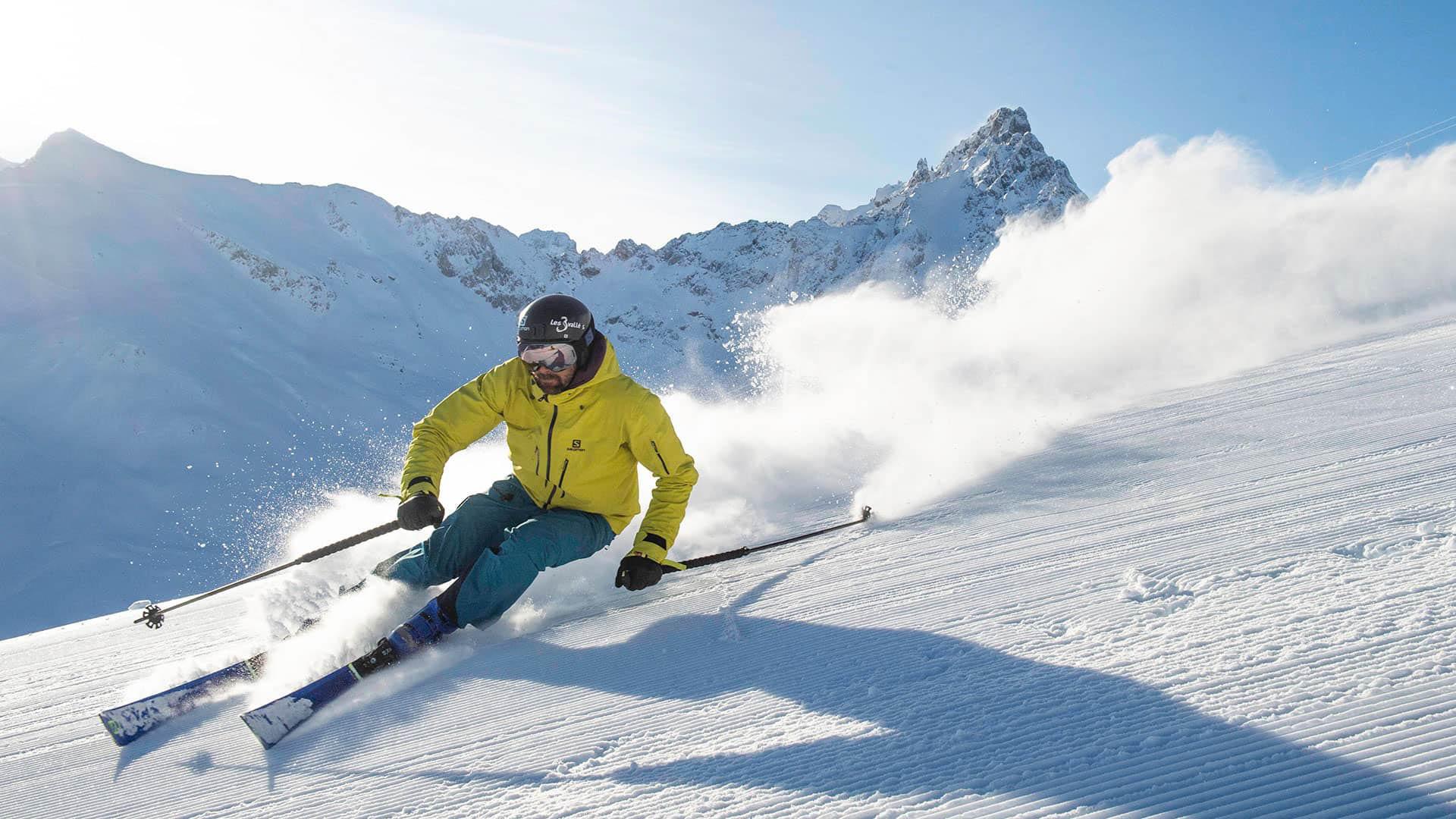 Solo Pass
€330.00 / person
For 6 adult days from the 18th December
From 4 hours to 21 days
Adult, child, senior
SOLO pass: a one-to-one with Les 3 Vallées!
Flexibility, freedom and fun… For a few hours or several weeks, enjoy the world's largest ski area this winter without any restrictions with a Solo Pass.
---
Pass SOLO, free and easy skiing
Les 3 Vallées' Pass SOLO is designed for people who love skiing on their own, or who find friends on the slopes or want to enjoy the runs in complete freedom.
Ranging from 4 hours to 21 days, this skipass gives access to the seven resorts of Les 3 Vallées and their 600km of runs! This open-air, powder-filled playground can be enjoyed by skiers of all levels and all ages.
Free up to 4 years and 75 or over (on presentation of proof of age)
Child, from 5 to 12 years
Adult, from 13 to 64 years
Senior, from 65 to 74 years
While it is possible to choose a 4-hour pass, le Pass SOLO becomes much more advantageous from 6 consecutive days in Les 3 Vallées. With a saving equivalent to more than one day's skiing, you'll enjoy your holiday without any pressure and can take the time to discover all the gems in the ski area.
As a bonus, on Saturdays in Les 3 Vallées ski area, all skiers are treated like children! Each Saturday during the winter season, adults and seniors buying their skipass online pay the child tariff, for a memorable day's skiing at a modest price.
Exceptional natural snow conditions
See you soon in the world of snow
Ski holidays are often booked months in advance, so it's good to be able to set out without any worries to Les 3 Vallées. Our ski area offers exceptional natural snow conditions: the majority of the runs are above 1,800m and snow is guaranteed throughout the winter season!

Panoramic views to take your breath away, state-of-the-art lifts, fun zones for all ages – Les 3 Vallées is accessible to all, from complete beginners to experts.
Nothing but skiing!
For a holiday that's 100% pleasure, buy your pass online before you arrive. Your Pass SOLO can be bought with just a few clicks from your home and can be recharged as little as 5 minutes before you hit the slopes.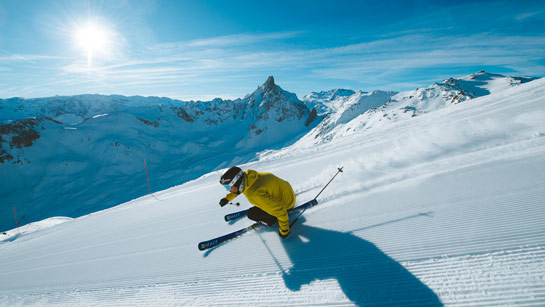 For your first purchase, order online and you will receive your pass in a few days at your home address (in France or abroad), or you can collect it from one of the pickup points in the resort. If you already have a rechargeable pass at home, you can recharge it on our website, and simply put it in the pocket of your ski outfit. The hands-free turnstiles in Les 3 Vallées will detect your pass at each lift.
You can ski from one run to the next and from one resort to another, without ever needing to visit a lift office. You'll gain time, flexibility and freedom – it's pure skiing pleasure!
Skiers of all abilities intending to come for between 6 and 21 days can choose a custom-made skipass to create the perfect holiday.

WARM UP : 10 TIPS FROM ADRIEN THÉAUX
Discover 10 tips from Adrien Théaux, member of the French Speed Skiing team from Val Thorens, on how to prepare for Alpine activities.
1. Ease back,
into an exercise routine at least one week before your holiday. Forget the lift, it's time to take the stairs! Goodbye public transport, hello bicycles and jogging!
2. A healthy lifestyle:
isn't just about exercise. As well as staying active, a nutritious, balanced diet and a good night's sleep are essential!
3. Check your equipment:
well- prepared and maintained skis, comfortable boots, a working helmet, a mask with protective lenses, the right- sized ski poles.
4. It never hurts,
to have a quick look at the piste map before your holiday. It will stop you having to get off and look at every ski lift!
5. In the morning,
bring a bag containing water, a snack, an extra layer in case of cold, and a pair of lightweight gloves if it's hot.
6. That reminds me,
did you check the weather?
7. Skiing is a sport for early birds!
The pistes are most enjoyable just as they open!
8. Before you set off on your first run,
ensure you have warmed up every part of your body, including neck, shoulders, arms, wrists and legs. Stretch your legs with 3 sets of 10 bending movements with a 90 second interval between each set.
9. Start with a couple
of easy downhill runs to get warmed up.
10. Remember that fatigue generally
hits and accidents often occur after lunch and at the end of the day. To get a head-start on your next day, use your après-ski to do some light stretching, stay hydrated and go for quick swim if you can!
Exceptionnal skiing
Playground
for experts
Like the other connoisseurs who come from all over the world to glide on the slopes of Les 3 Vallées, you know that this is where you come alive, satisfying your need for vertical drops, quenching your thirst for ascent and descent, walls, moguls and powder snow…