Early December and late April special rates
€26.40 / person
For 1 adult day, 50% off on 4th December (instead of 52.80€)
4h to 7 days
Solo / Duo / Tribu / Family
Reduced prices in early December and late April in Les 3 Vallées
Few things in life are more rewarding than skiing wherever you fancy and soaking up the fabulous views in the heart of the 105km2 of the largest ski area in the world. By choosing Les 3 Vallées, you are giving yourself the very best in skiing.
Buy your skipass for the 3 Vallées opening
---
The 7 resorts which make up Les 3 Vallées (Courchevel, Méribel, Brides-les-Bains, Les Menuires, Saint-Martin-de-Belleville, Val Thorens and Orelle) are linked by state-of-the-art lifts and pistes, and overlook 11 exceptional peaks. It's impossible not to stop and stare from these breath-taking and inspiring viewpoints (it's also a chance to get your breath back). Thanks to 85% of the ski area being above 1,800m, the snow is always in great shape and skiing is guaranteed from December to April.

The magic of skiing in Les 3 Vallées at the start of the season (from 4 December)
The first day of the season in Les 3 Vallées is celebrated with low-cost skiing. The Pass Solo (individual passes) for adults, children and seniors are all 50% off on the special opening day on 4th December. The lifts spring back to life, the virgin snow sparkles… being one of the first to venture onto these untouched slopes feels like a magical new beginning.
This price saving on the first day also reduces the cost of a 2-day ski pass for the first weekend:
1-day adult 3 Vallées pass is 26.40€ instead of 52.80€, 2-day pass is 79.40€ instead of 104.80€
1-day child 3 Vallées pass is 21.10€ instead of 42.20€, 2-day pass is 63.30€ instead of 83.80€
1-day senior 3 Vallées pass is 23.70€ instead of 47.50€, 2-day pass is 71.20€ instead of 94.30€
This offer is exclusively available online up to midnight on Friday 3 December, and may not be combined with any other offer.
Lower prices in low season
From the first snowflakes of the season (4 to 10 and 11 to 17 December) to the last (16 to 22 April), you can enjoy skiing at reduced prices and make the most of Les 3 Vallées' exceptional snow cover. For skiers happy to explore alone (Pass Solo) and those who prefer to whizz down the slopes in company (Pass Duo, Tribu and Famille), these lower prices make low-season skiing season irresistible, whether it's for a half-day or week-long holiday.
For exemple:
Adult Pass Solo 3 Vallées is 52.80€ instead of 66€ per day in the first week of the season (6 – 10 December)
Child Pass Solo 3 Vallées is 94.30€ instead of 104.89€ for 2 days in the second week of the season (11 – 17 December)
Pass Family 3 Vallées allows all the family to ski at the child price, ie 237.60€ instead of 264€ for 6 days skiing from 16 to 22 April.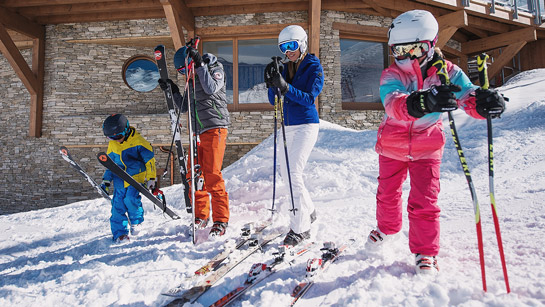 Skiers of all abilities intending to come for between 6 and 21 days can choose a custom-made skipass to create the perfect holiday.
Varied atmospheres
Assets of
December & April
Discover advantages of December and April : what you will love during these months and the difference of atmosphere.
Buy your 3 Vallées skipass online: the easy way to enjoy Les 3 Vallées
By buying online, you can arrive with your skipass already in your pocket, ready to hit the slopes, and not lose a minute of ski time.
Easy to purchase. Visit our website, chose the skipass that suits your stay in Les 3 Vallées, then simply order it online. If it is your first purchase, you will receive your skipass by post, at no extra charge, a few days later.
Instant recharging. You can recharge your existing 3 Vallées passcard in a few clicks, up to 5 minutes before you set off on the slopes..
Reload your skipass online
More holiday time. You never have to visit the skipass office during your holiday (unless you opt to collect your skipasses in the resort). And that means you spend more of your holiday time on the slopes!
Ultimate flexibility. If your plans change, you can cancel or change your skipass without cost, as long as you haven't used it on the lifts.
And now it's your turn to enjoy the pure pleasure of skiing in the world's largest ski area!