Les 3 Vallées, an unbounded playground for lovers of great skiing, strong sensations, preserved natural areas... and gastronomic pleasures! Discover another jewel in the crown of the area, its well-deserved reputation as gastronomic destination, offering authentic local products, exceptional Michelin-starred restaurants and high altitude restaurants with spell-binding views. A true paradise for epicureans!
A constellation of Michelin-starred chefs
No less than 12 renowned establishments with a total of 20 Michelin stars are to be discovered in Les 3 Vallées... A World record for the mountains! Refined, creative and cosmopolitan cuisine; the use of local products, sublime mountain flavours, harmonious food and wine pairings... Embark on an unforgettable culinary exploration through the seven resorts of the 3 Valleys ski area, with all five senses awakened.
Treat yourself on the summit
Skiing, boarding, mountain biking, hiking…after a day spent exercising in the fresh air, getting together around a well laden table has a special quality. Recounting one's greatest sporting exploits while replenishing energy levels, by the fire in a cosy lounge or on the terrace, with a blanket slipped over one's knees. At altitude, the view of the surrounding peaks is breath-taking…and the menu does not disappoint either! Savoyard fondue, raclette, crozet gratin... the setting is ideal for tasting the heartening local specialities served all year round..

Delicious moments
The gourmet experience extends beyond traditional restaurants in Les 3 Vallées. Home-made delicacies to take away for a restorative snack whilst enjoying a view. Local products to cook at your accommodation or take back in your suitcases. Why not reserve for an après-ski treat, to be enjoyed in a cosy tea room at the foot of the slopes... Time stops for a traditional hot chocolate and some sweet delicacies.

A gustatory journey with a thousand and one facets!
Fondue

, 200G OF FONDUE - 468 calories (without the bread!)

Feel free to have another helping! If you plan on a sealskin hike with an elevation difference of less than 1,000 metres for around three hours, you should burn almost 1,000 calories.

Raclette

, 200G OF RACLETTE - 734 calories (without the potatoes, charcuterie and salad)

You will already have burned 700 calories after two hours of skiing!

Crozet

, 200G OF CROZET PASTA - 730 calories

It's not that hard! A mere hour of ski touring (around 850 calories burned) and your culinary excesses will be a distant memory.

Tartiflette

, 200G OF TARTIFLETTE - 290 calories

Grab a pair of poles, some good shoes, and set off along a groomed pedestrian track. After an hour of Nordic walking you can say goodbye to more than 300 calories.

Assiette savoyarde / Savoyard platter

, SAVOYARD PLATTER WITH 100G OF BEAUFORT AND 100G OF CURED HAM - 740 calories

Depending on your weight, we recommend between one and two hours of snowshoe hiking to get rid of them. An ideal way of discovering the winter wonderland from a different angle.
Les 3 Vallées
Skipasses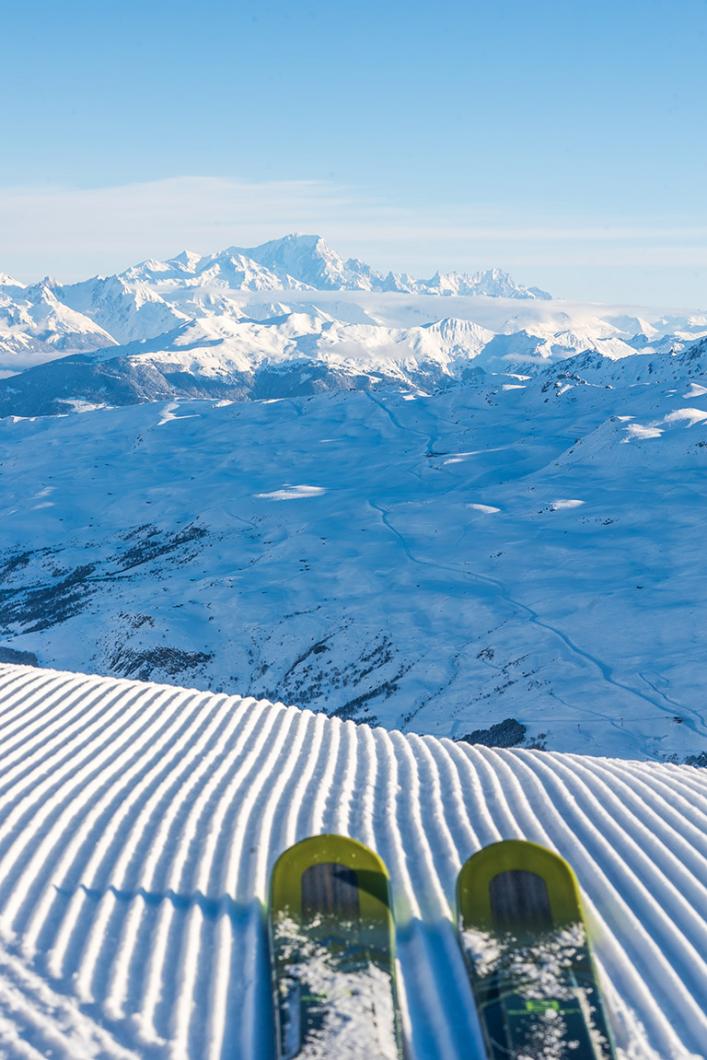 Twice as much time on the pistes ! Three valleys, seven ski resorts… make sure you don't waste a minute of your precious holiday time!

Before you set out on your unforgettable ski holiday, why not do the necessary admin online? Buy or reload your skipasses on the internet!
Buy your skipasses