Family in contact with animals
With children

With teens

For all

Family friendly
Family activities you can enjoy with animals
Looking for a fun activity to do with your family? Why not spend some time with animals?
Les 3 Vallées are home to a wide variety of farms, making it the perfect place to get up close to some of your favourite creatures.
You can also learn everything there is to know about the Black Bee, take a dog sled ride or go on a galloping adventure...
Les 3 Vallées offer an infinite number of experiences for the whole family!
BZZZZ BZZZZ...
The Black Bee is threatened with extinction and has found refuge in the Vallée des Belleville. After the creation of hives at the Conservatoire de l'Abeille Noire, a centre has been opened in a renovated mountain refuge in Plan de l'Eau des Bruyères in Les Menuires to explain the history, lives, and remarkable characteristics of bees. Come and discover this intriguing micro- civilisation next to the hiking paths and cross- country skiing pistes.
---
SLEDS AT THE READY
Dog sledding is a leading activity in winter resorts, and Les 3 Vallées is no exception.
In Courchevel, a range of trips are organised by Courchevel Aventure.
In Saint-Martin-de-Belleville, first-time trips take place along the Doron River starting in the village. An incredible experience to be shared with the pack of Australian Shepherds.
You can also go on 30-minute dog sledding trips in Val Thorens.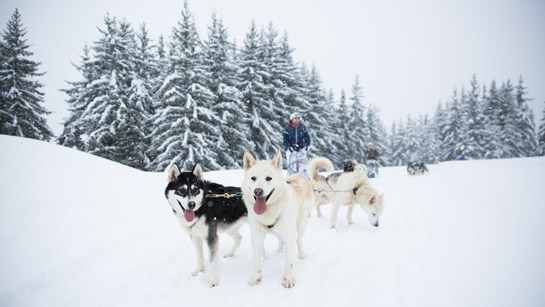 ---
GIDDY UP!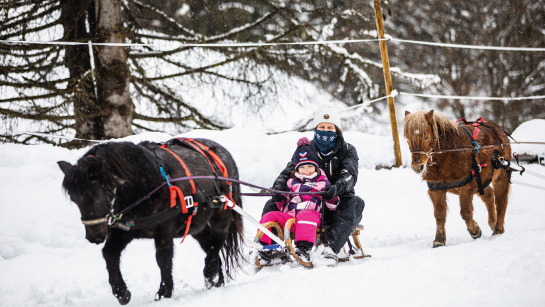 Combining the pleasure of skiing with a passion for horses in a magical winter setting is now possible with skijoring! Children must be of 1-star ability or more.
Centre Équestre Courchevel
---
MY LITTLE PONY
Experience the pure joy of sitting in a luge being pulled by a pony! Children in groups of three or less (two in the luge, one on the pony) can enjoy this unforgettable moment with their siblings, cousins, or friends. And adults are welcome to come along too!
LIKE A FAIRY TALE
Climb aboard a horse-drawn carriage on the Place du Tremplin, and discover Courchevel's streets in a whole new way, at the gentle clip clop pace of a horse. Either take a ride (from 10 minutes to 1hr) or try the new and unusual "carriage taxi".
Dog sledding - Courchevel

Courchevel Aventure

Ski-Joering / Pony - Méribel

Ranch Nordique Méribel

Ski-Joering / Horse ride - Courchevel

Centre équestre Courchevel

Museum - Les Menuires

Maison de l'abeille noire et de la nature

Dog sledding - Saint-Martin-de-Belleville

Office du Tourisme
VISIT OF FARMS
You'll find sheep farmers Susan and Serge Jay in the hamlet of Le Châtelard, near Saint-Martin-de-Belleville. You are very welcome to explore their farm and try their ewe's milk yoghurt, Tomme and sérac cheese. Visit La Trantsa farm. The +: Ewe's milk is very rich in protein and easier to digest than cow's milk.
In Villarenger, the farm is open from Monday to Friday to approach goats, horses, ponies, hens… Pony rides are also proposed. If you are interested in going there, don't forget to book in advance!
Visit the Saint Michel goat farm in Orelle and find out all about the exciting farming profession. Foodies can even buy cheese on site!
Farm visit - Saint-Martin-de-Belleville

La Transta

Farm visit - Saint-Martin-de-Belleville

Chèvrerie de Villarenger

Farm visit - Orelle

Chèvrerie de Saint Michel
Sharing and reunion
To discover
with the family
The shared experience of a ski holiday is a highlight for any family, bringing its members closer together, withstanding the passing of time, filling photo albums and leading to many a funny story at family dinners… Skiing as a family brings you together somewhere else, allowing you to reach new heights !