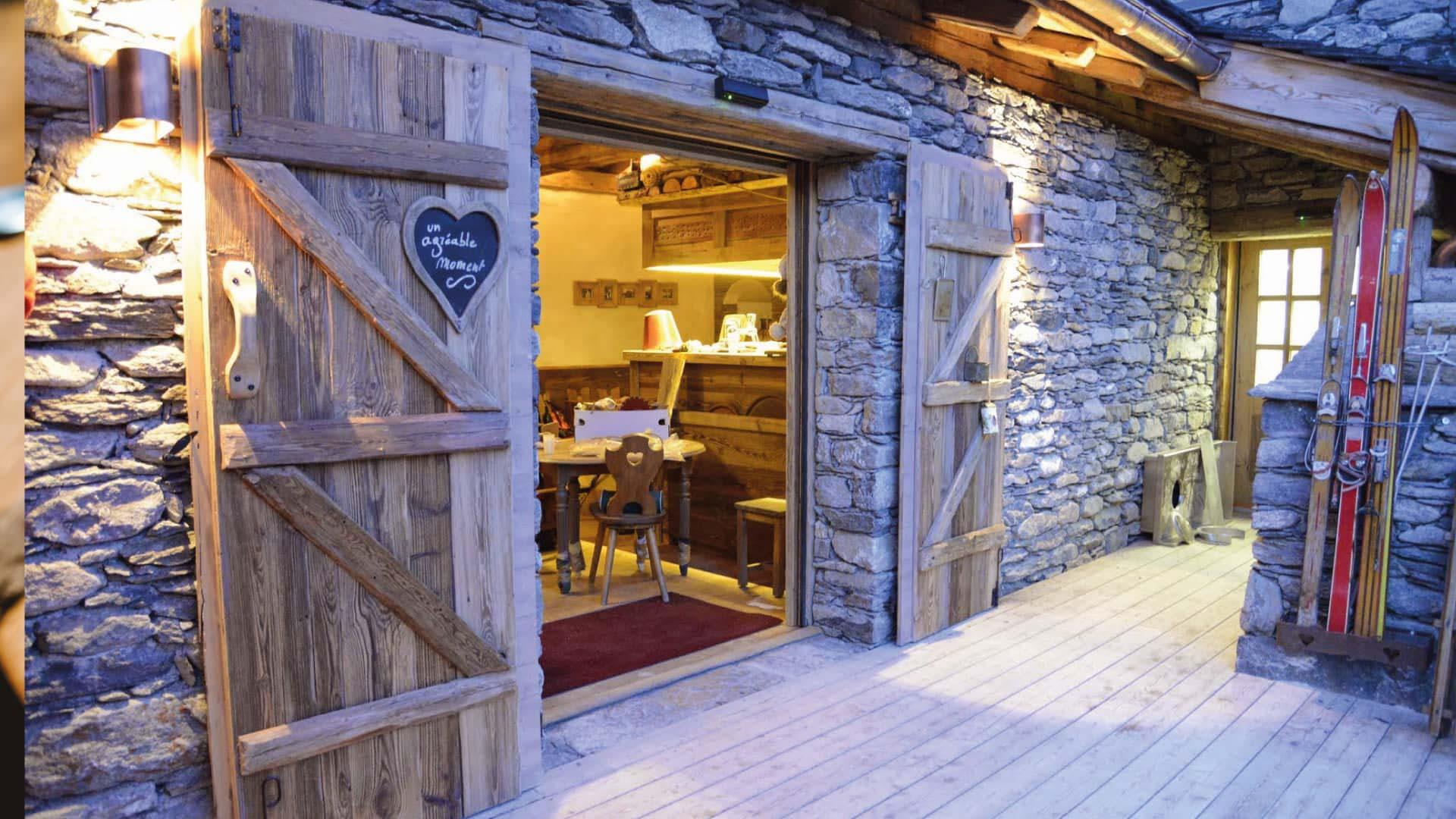 Local produce: our 3 Vallées top picks !
With children

With teens

Adults

For all

Gourmet gateway
Local products only to enjoy Savoyard food
Restaurants, cheese factories, alpine chalets, our best addresses to enjoy Savoyard food.
Courchevel valley
Restaurant étoilé Le Farçon - Courchevel
Le Farçon* in the heart of the village of La Tania is headed up by Michelin-starred Chef Julien Machet, who adds a pinch of Savoy to every gourmet dish. The unique ingredients include puff pastry with Beaufort cheese, original Savoyard wines, nut oils from the Aigueblanche mill, and hay syrup…
La Ferme de La Tania - Courchevel-LaTania
A menu brimming with the finest Savoyard specialties!
Savoyard specialties from 19 to 27 € / person.
Le Bouc Blanc - Courchevel
Take a seat on the terrace of Le Bouc Blanc at 2,000 metres of altitude, and treat yourself to the (very generous) Beaufort Tart while marvelling at the breathtaking panorama.
La Fromagerie - Courchevel
La Fromagerie in Courchevel offers a warm setting featuring wood, stone, curious objects from the local countryside and a roaring fire. The ideal spot to indulge in traditional Savoyard cuisine.
Fondues from 25 to 52 € / person.
Les Saveurs des Alpes - Courchevel
Cheeses, charcuterie, mountain honey and the famous raclette sandwich are just a few culinary gems to be discovered at the Saucisse Savoyarde deli in La Tania.
Le Caveau - Courchevel Village
In a rustic and typically Savoyard setting, Le Caveau is the place to go to taste a Savoyard speciality in Courchevel Village. Decorated with ancient materials and Savoyard furniture, Le Caveau has everything to suggest an authentic rustic chalet!
La Ferme-Auberge de L'Ariondaz - Courchevel-Moriond
In an Alpine chalet at altitude of over 2000 m with a breathtaking view of Mont Blanc and the Grande Casse, alpine farmers Emilie and Bernard await you to present the best regional specialties as well as their own traditional recipes concocted with care from their own produce.
Restaurant - Courchevel

Le Farçon*

Restaurant - Courchevel

La Ferme de La Tania

Restaurant - Courchevel

Le Bouc Blanc

Restaurant - Courchevel

La Fromagerie

Caterer - Courchevel

Les Saveurs des Alpes

Restaurant - Courchevel

Le Caveau

Restaurant - Courchevel

La Ferme-Auberge de L'Ariondaz
Fondue

, 200G OF FONDUE - 468 calories (without the bread!)

Feel free to have another helping! If you plan on a sealskin hike with an elevation difference of less than 1,000 metres for around three hours, you should burn almost 1,000 calories.

Raclette

, 200G OF RACLETTE - 734 calories (without the potatoes, charcuterie and salad)

You will already have burned 700 calories after two hours of skiing!
Méribel valley
Au Plan des Mains - Méribel
Everything at Le Plan des Mains on the slopes of Méribel has been design to satisfy both foodies and those looking for a quick bite. The restaurant offers a sandwich counter with home-made bread, a bar, south-facing terraces and a children's area. An establishment devoted to relaxation and gastronomy where local cuisine is the star of the show.
La Téléfondue - Méribel
Le Bistrot de l'Orée offers a unique culinary concept: enjoy a fondue in a gondola! Depart at 1450m, stop at the top of the Saulire. It is also an opportunity to discover the valley of Meribel in the light of the moon and the stars.
By reservation only.
La Fabrik - Brides-les-Bains
Located at the centre of the resort, La Fabrik is a bar with a modern and warm atmosphere. We come here to taste the Savoyard specialties while attending the various live concerts scheduled all winter long.
Restaurant - Méribel

Le Plan des Mains

Restaurant - Brides-les-Bains

La Fabrik
Crozet

, 200G OF CROZET PASTA - 730 calories

It's not that hard! A mere hour of ski touring (around 850 calories burned) and your culinary excesses will be a distant memory.

Tartiflette

, 200G OF TARTIFLETTE - 290 calories

Grab a pair of poles, some good shoes, and set off along a groomed pedestrian track. After an hour of Nordic walking you can say goodbye to more than 300 calories.

Assiette savoyarde / Savoyard platter

, SAVOYARD PLATTER WITH 100G OF BEAUFORT AND 100G OF CURED HAM - 740 calories

Depending on your weight, we recommend between one and two hours of snowshoe hiking to get rid of them. An ideal way of discovering the winter wonderland from a different angle.
Belleville valley
Chez Pépé Nicolas - Les Menuires
Chez Pépé Nicolas is an authentic alpine chalet nestled in the centre of a stretch of unspoiled snow. This is a must-visit restaurant for those who want to understand the history of the resort and its pioneers, and enjoy traditional dishes such as tartiflette, polenta fries and Bellevilloise rissole.
Raclettes between 25 and 30 € / person.
La Fromagerie des Belleville - Les Menuires
Ranked number 1 in the resort on TripAdvisor, La Fromagerie des Belleville in Les Menuires delights holidaymakers with succulent raclettes with unpasteurised cheese, matouilles (fondue with Tomme cheese), reblochonnades, crozet pasta, and of course a selection of fondues made exclusively with Beaufort cheese matured by Paul, the restaurant owner. Dessert is just as enticing, with angel wings and rissoles just like grandma used to make!
Dishes à la carte from 17 to 26 €.
Le Montagnard - Saint-Martin-de-Belleville
At the Montagnard, Saint-Martin-de-Belleville. Tasting of the famous "paillasse Bellevilloise": grated potatoes, smoked diced breast, crème fraîche, pine nuts, goat cheese, mushrooms, caramelised onions. A delight!
La Belle en Cuisse - Val Thorens
As you step inside La Belle en Cuisse at the end of the Rue Caron in Val Thorens, the first thing that hits you is the mouth- watering scent of hams hanging from the ceiling! The products all offer true, local flavour, such as the raclettes and fondues prepared by Pierre. You can even hire the equipment for an authentic Savoyard evening at home!
La Laiterie-Altapura - Val Thorens
Discover the exclusive fondues and raclettes imagined for La Laiterie by the Chef in association with master cheesemonger Boujon, a talented maturer.
Restaurant - Les Menuires

Chez Pépé Nicolas

Restaurant - Les Menuires

La Fromagerie des Belleville

Restaurant - Saint-Martin-de-Belleville

Le Montagnard

Delicatessen & cheese shop - Val Thorens

La Belle en Cuisse

Restaurant - Val Thorens

La Laiterie - Altapura
3 Vallées local products
Treat your
tastebuds
The pleasures of the table, passion for local products, appreciation of the good things in life... Gastronomy is deeply rooted in the DNA of Les 3 Vallées. Get ready for a savoury stay !