Les 3 Vallées opening : 50% off on 1-day Adult Solo Pass
€26.40 / person
For 1 adult day, 50% off on 4th December (instead of 52.80€)
1 day
Adult, child, senior
The very best way to start the winter
At the heart of the 105km2 that comprise the world's largest ski area, devouring the ski runs to your heart's desire whilst soaking up spectacular views has the knack of awakening a sense of fulfilment in each and every one of us. Skiing in Les 3 Vallées is treating yourself to the very best skiing there is.
The 7 resorts that make up Les 3 Vallées (Courchevel, Méribel, Brides-Les-Bains, Les Menuires, Saint-Martin-de-Belleville, Val-Thorens and Orelle) are connected by ski runs and cutting-edge ski lifts, revealing exceptional summits and stunning inspirational views, which skiers can gaze upon as they catch their breath. With 85% of the ski area set above altitudes of 1,800 metres, the snow conditions are excellent and skiing is guaranteed from December to April.
From December the 4th to the 10th, Les 3 Vallées opening week is your chance to jump into the heart of winter and onto the runs of Les 3 Vallées at unbeatable prices!
The magic of skiing in Les 3 Vallées at the start of the season (from 4 December)
The first day of the season in Les 3 Vallées is celebrated with low-cost skiing. Everyone benefits from 50% off on the Adult Solo Pass (individual pass) for the special opening day on 4th December : everyone skiing for just 26.40€!
The lifts spring back to life, the virgin snow sparkles… being one of the first to venture onto these untouched slopes feels like a magical new beginning.
This price saving on the first day also reduces the cost of a 2-day ski pass for the first weekend:
2-day adult 3 Vallées pass is 79.20€ instead of 104.80€,
2-day child 3 Vallées pass is 68.60€ instead of 83.80€,
2-day senior 3 Vallées pass is 73.90€ instead of 94.30€.
This offer is exclusively available online up to midnight on Friday 3 December, and may not be combined with any other offer.

Lower prices in low season
Make the most of low prices in Les 3 Vallées at the start of December. From 04/12 to 10/12, and from 11/12 to 17/12, enjoy great discounts on all skipasses: Children's, Adult's and Senior Citizen's Solo Passes, Duo and Tribe Passes, not forgetting the Family Pass!
For exemple:
Adult Pass Solo 3 Vallées is 52,80€ instead of 66€ per day in the first week of the season (5 – 10 December),
Child Pass Solo 3 Vallées is 94,30€ instead of 104,80€ for 2 days in the second week of the season (11 – 17 December).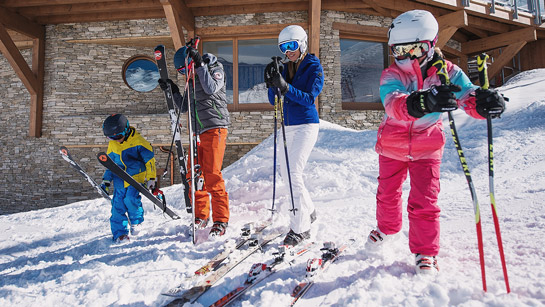 Skiers of all abilities intending to come for between 6 and 21 days can choose a custom-made skipass to create the perfect holiday.
Low season : low prices
Assets of
December & April
Discover advantages of December and April : what you will love during these months and the difference of atmosphere. Benefit from reduced prices on 3 Vallées skipasses at the beginning of December and the end of April.
Buy your 3 Vallées skipass online: the easy way to enjoy Les 3 Vallées
Arrive ready to hit the slopes, your skipass all charged up and in your pocket, and set off to make the most of the joys of snowsports without further ado – buy online and this could be you!
An easy process. Choose the 3 Vallées skipass that best fits your requirements from our website, then order it online. If it's your first purchase, your skipass will be sent to your home address free of charge (check delivery times).
Recharge straight away. When you buy a new 3 Vallées skipass, you can recharge your skicard online in just a few clicks, up until 5 minutes before you hit the slopes.
An optimised stay. You will no longer need to go to a sales outlet (unless you choose to collect your skicard in resort), giving you more time on the slopes of Les 3 Vallées!
Greater flexibility. If your plans change, you can cancel or change your skipass free of charge, as long as you have not used any of the ski lifts.
An exceptionnal territory
Unique
experiences
Les 3 Vallées is a limitless playground where anything is possible, where all your dreams can become true. Les 3 Vallées is not only about skiing, it's also a multitude of activities to practice alone, with family or friends...