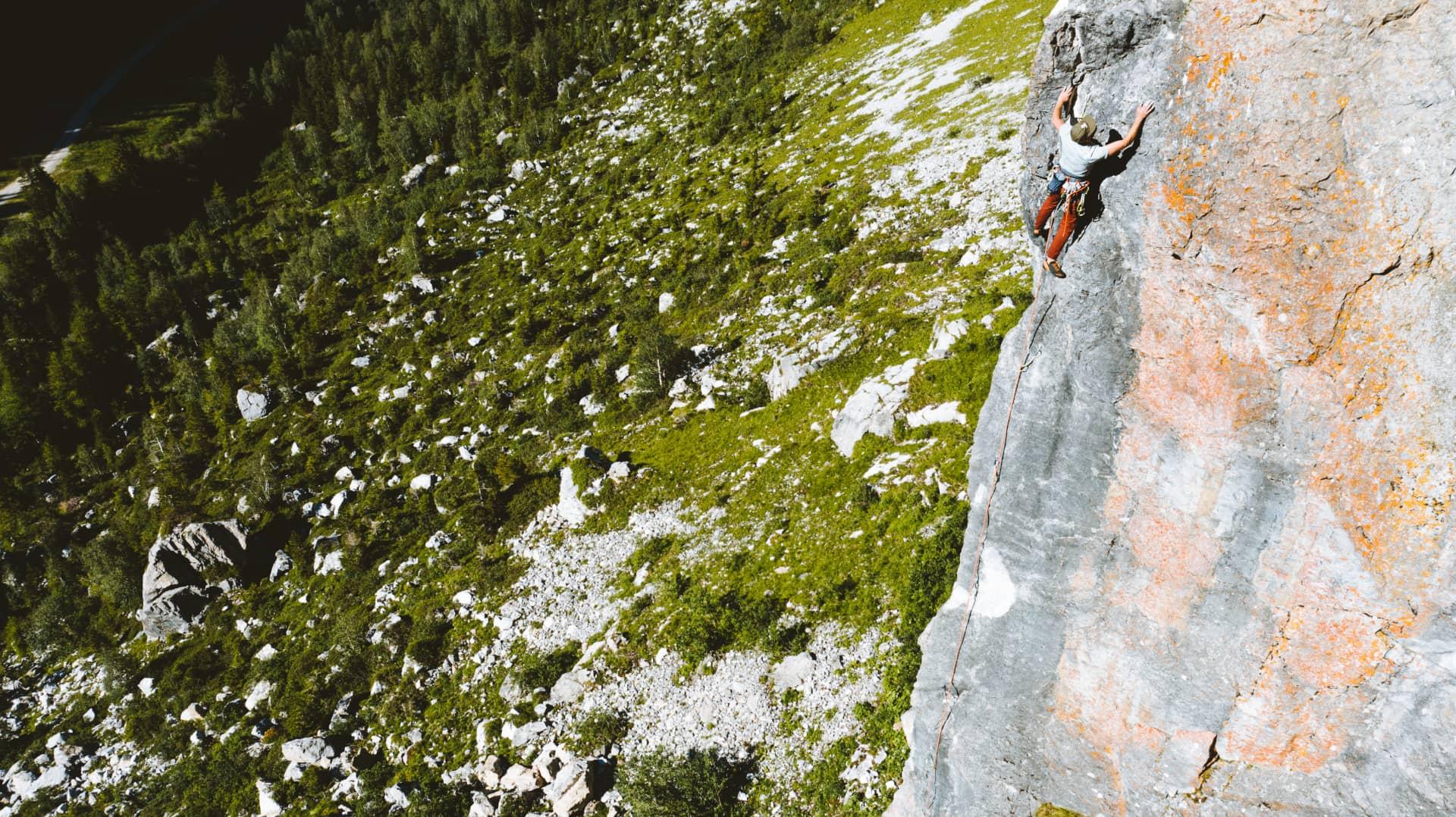 Climbing in the French Alps
Find your path to climb in les 3 Vallées
The feel of the rock beneath your fingers, gripping tight, climbing higher, focusing on nothing but yourself and your surroundings, breathing to pull yourself up, move after move, centimetre after centimetre.
Whether on a cliff-face, a multi-pitch route or an artificial wall, climbing offers a unique sense of freedom and self-control. The world of verticality may be daunting, but it's more accessible than you think, largely thanks to the guides and instructors who help everybody to climb in total safety. Climbing is a wonderful way to stretch yourself, push your limits and overcome your fears, in a stunning setting that lets you feel at one with nature.
CLIMBING IN LES 3 VALLÉES
In Courchevel
Whether you're a beginner or an expert, there are multiple possibilities for all abilities.
On the Praméruel climbing site between Courchevel-Moriond and Courchevel 1850, earn your cliff-climbing stripes and carry out a series of rope manoeuvres, knots and abseils over fifty routes ranging from 5A to 7B+/7C.
A fantastic range of multi-pitch routes of varying lengths sit along the cliff face, against the wild backdrop of the Avals Valley.
And why not treat yourself to a wonderful route around a crest such as the Aiguille de la Vanoise: elevated but not difficult, with La Grande Casse and the Vanoise glaciers in the background.
If the weather's bad, the Forum in Courchevel 1850 and Aquamotion in Courchevel-Village are equipped with vast artificial climbing walls that are perfect for practising!
In Méribel
Though Méribel's geological profile means that it has no real climbing site to speak of, the Méribel Mountain Guides' Office will point climbers towards the nearby sites of Courchevel or Vanoise on the Pralognan or Champagny sides….
And for getting started at any age or if the sun's refusing to shine, the Parc Olympique's 14-metre-tall climbing wall makes a perfect alternative.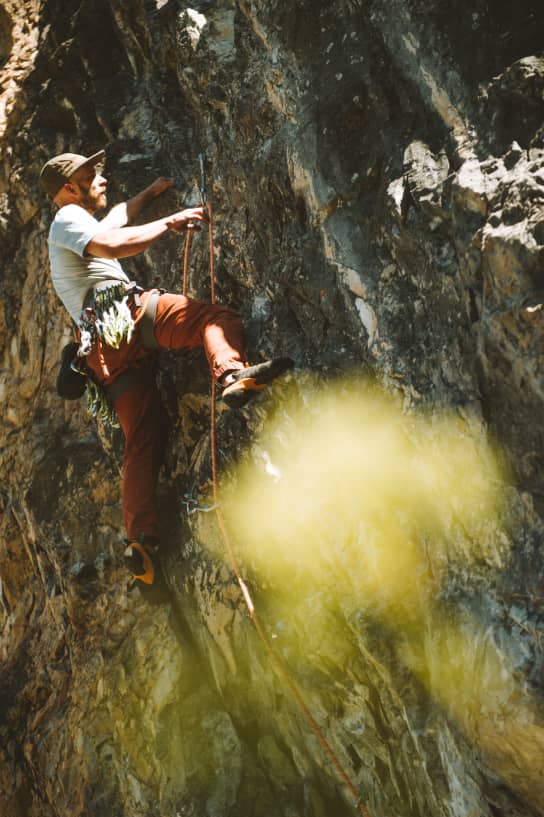 Les 3 Vallées offers a wide range of options, whether it be beginners' sites in the heart of nature, cliff faces, classic multi-pitch routes and legendary summits, as well as artificial walls in well-equipped sports complexes.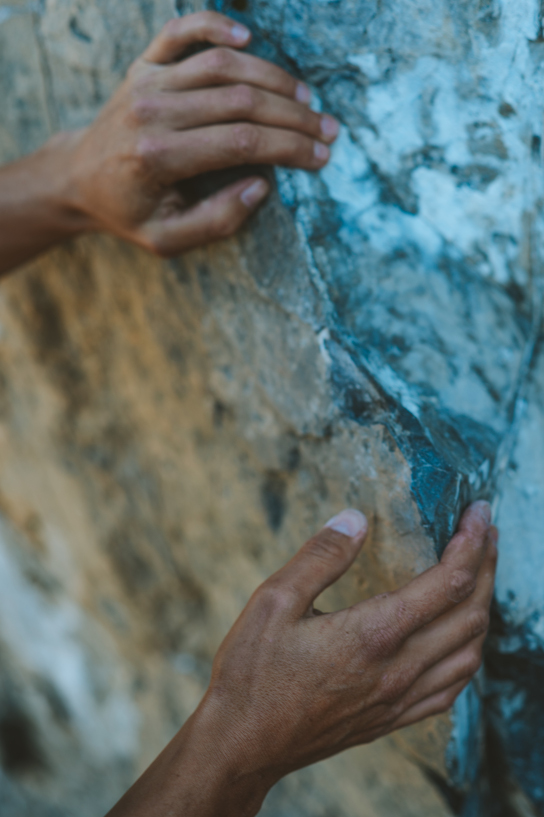 In the Belleville Valley
There are numerous climbing options for those who look up above in this deep valley with its mineral, wild atmosphere.
Perfect for beginners, Les Bruyères rock climbing school heading towards Lac du Lou offers 5 blocks of 3 to 12 metres, including some equipped for lead climbing.
Similarly, in Val Thorens, the beginners' site is equipped with 12 routes ranging from 3 to 5 in difficulty.
To climb even higher and really master the rock face, some climbers opt for Les Dalles du Borgne, perched at an altitude of 2,750 metres towards Lac Blanc: a lovely south-facing cliff with magnificent views over the Peclet massif.
Others get stuck in to the Encombres Valley, as far as Le Chenu quartz cliff face, which is also south-facing and is characterised by an extremely vertical climb that's nonetheless accessible in terms of difficulty.
There's also the option of Saint Marcel and its Voie du Fantôme, or even the Voie Simond route…
In the event of bad weather, Saint-Martin-de-Belleville's climbing room with its 14-metre-high wall, 68 routes and two 4.5-metre overhanging sections should keep climbers very happy indeed.
Be well accompanied
Follow the guides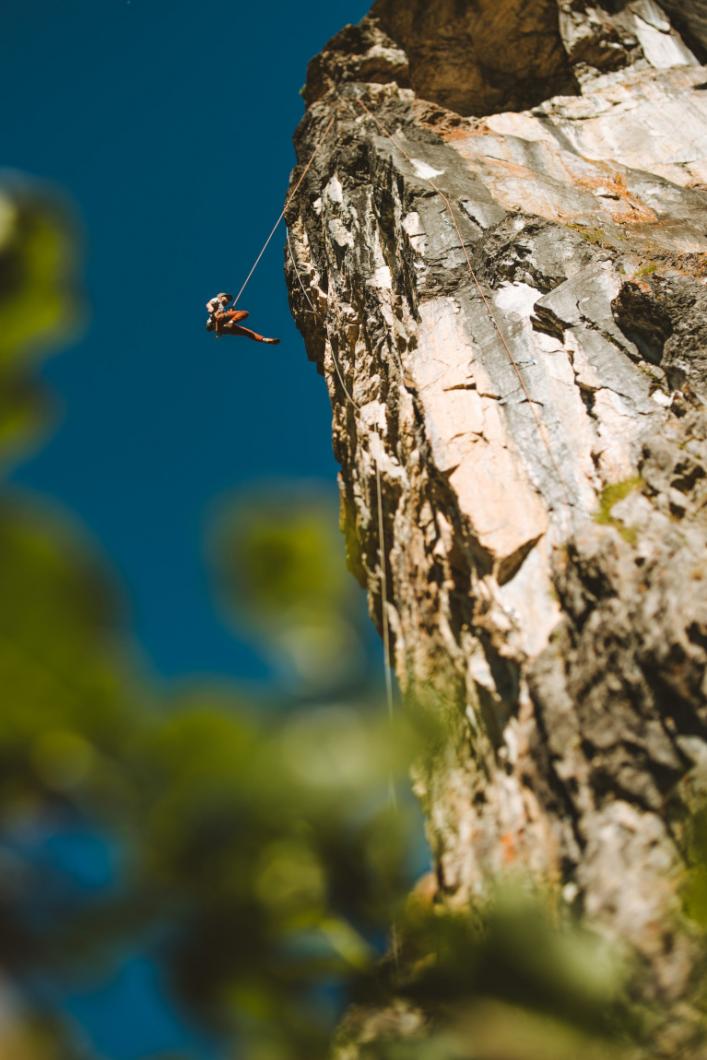 Climbing is a technical activity that demands professional teaching and reliable instruction. To discover it for the first time or progress in total safety across the area's sites, Les 3 Vallées Mountain Guides Offices are essential. These qualified and experienced mountain and rock climbing professionals will adapt sessions to suit your ability and the conditions, and have the expertise to get you climbing high and having a great time!

A few hours' introductory session on an artificial wall, half-day introductions to rock climbing, 5-session intermediate rock climbing courses, multi-pitch route climbs… the options are endless and endlessly customisable!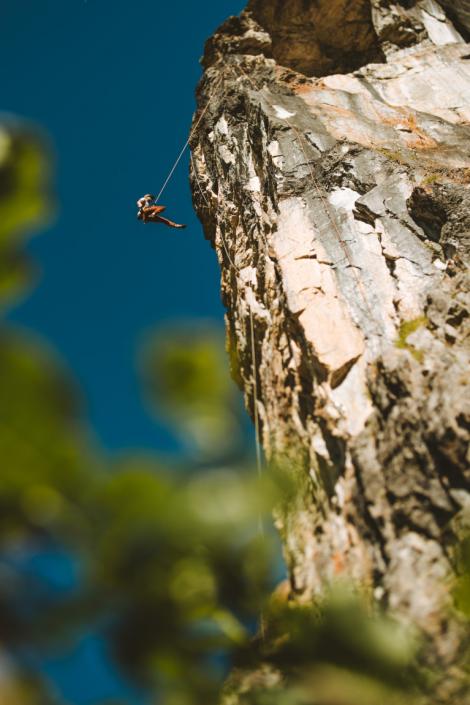 The 3 Vallées guide offices
Mountain Guides - Courchevel

Bureau des Guides de Courchevel

Mountain Guides - Méribel

Bureau des Guides de Méribel

Mountain Guides - Les Menuires

Bureau des Guides Vallée des Belleville

Climber's checklist
As well as being well supervised, climbing also requires the proper equipment. Here's what you need:
CLOTHING:
Leggings – shorts or full-length allowing a wide range of movement,
EQUIPMENT(usually provided by guides on sessions):
Remember to bring water and a little snack to regain strength!
Les 3 Vallées territory
An infinity
possibilities
In our mountains, the nature capture your senses, the rivers and lakes promise wonderful hikes and walk, the lush grass of the vast alpine pastures invites you to enjoy games of chase or naps in the sunshine. Take a little time for yourself, to get in touch with your emotions, your body and nature in Les 3 Vallées.