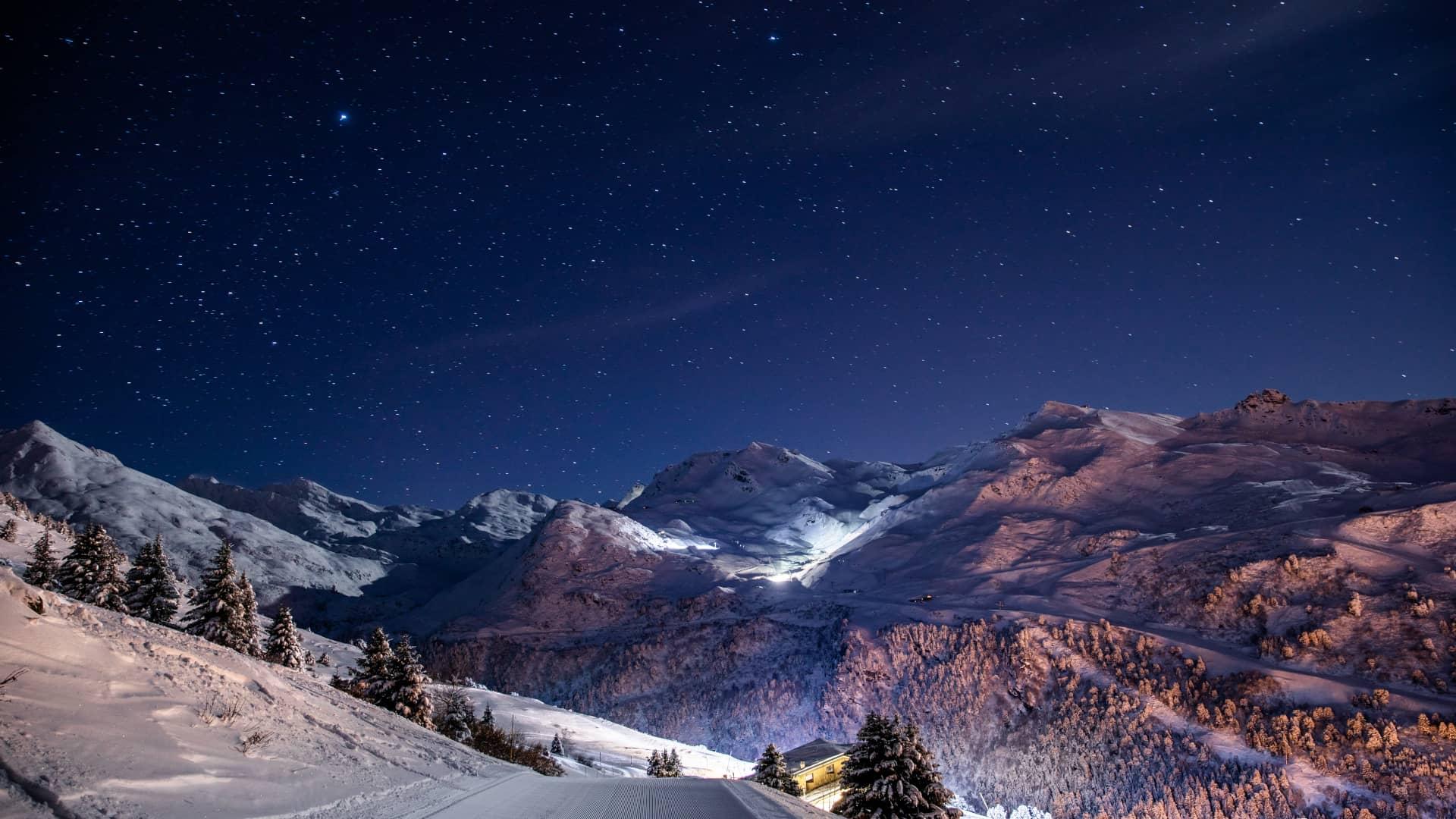 Les 3 Vallées at night
With children

With teens

Adults

For all

Unique adventures
A night in Les 3 VALLÉES : a magical experience
After a festival of colour in the skies, the sun disappears behind Les 3 Vallées' summits. Silence settles on high while in the villages, a sense of excitement rushes in.
Darkness invites you to dream, making way for imagination, enchantment, and magic.
Nights in the mountains can go hand in hand with adventure, celebration, or just pure, incredible silence.a
Darkness asks only for illumination… by a myriad of stars, the whiteness of the snow, a firework, a little headlight, a campfire or a ski instructor's torch…
Night, whether sleepless or jet-black, seems to amplify everything: the imagination, thrills. Existence just feels more intense, like an added bonus, a victorious, even stolen, moment…

It's your turn to have your dream night in Les 3 Vallées!
Thousand colors
The magic of the night
Les 3 Vallées at night means little streets, chalets, shop windows and all the resorts' establishments sparkling with light on winter evenings, and even more so at Christmas. Wandering through the illuminated streets immerses you in a magical world of wonder at any age.

Les 3 Vallées at night means fireworks, which punctuate amazing nights of celebration across the resorts, in summer and winter alike. Up there, the wide, varied range of entertainment guarantees unforgettable moments and the very best of holidays… with family and friends.
LIGHT GAMES
Les 3 Vallées at night means beautiful torch-lit descents carried out by Les 3 Vallées' French Ski School instructors. These 2,000 snowsports ambassadors passionately celebrate their playgrounds after sharing them with apprentice skiers.
BACK TO BASICS
Les 3 Vallées at night means fire: campfires in summer and burning hearths in winter. Fires that crackle, keep you warm and gather people together. Warm fireplaces, in high-altitude mountain refuges, chalets nestled at the heart of Alpine pastures and in welcoming hotels. Among the infinite variety of accommodation offered in Les 3 Vallées, this source of light is a constant symbol of warmth and welcome.
Les 3 Vallées at night also means the halo of a head torch lighting the way ahead pre-dawn or at dusk at altitude. The one leading you to the summit, over the crests and through the forest, on sealskins, on a mountain bike or on foot…

Les 3 Vallées at night finally also means silence, the whispering of the trees, the whistling of the wind, the bellow of a stag in the early morning, the twittering of birds just before the sun makes its appearance… and announces a new, totally beautiful day!
Countless cocoons
Tailor-made accommodation options
Once you've selected Les 3 Vallées as your destination, next, it's up to you to choose how you want to experience it.

How accommodation is configured, the pace of life and the soundtrack to your holiday in Les 3 Vallées can all vary: a crackling fire in the fireplace of a quiet chalet, or a sunshine-filled DJ set on a terrace…

The same applies to style: you can opt for reclaimed wood and authenticity, or a trendy designer feel.
Every option can be found in Les 3 Vallées...